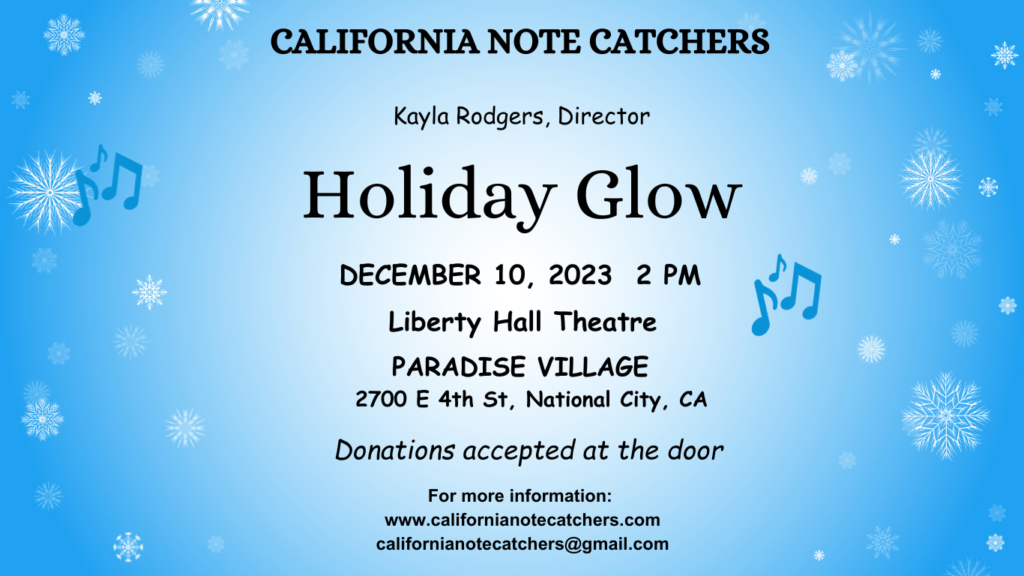 "Come for the singing…stay for the friendship!"
The California Note Catchers is a women's barbershop harmony chorus based in San Diego County. We are a non-profit organization and are affiliated with the international barbershop organization, Harmony, Incorporated.
Singing is fun!
We perform at local and community venues and we work hard to perfect the songs we perform. We have fun and our chorus members have made friendships that will last a lifetime. To find out more about us and whether you'd be interested in joining us, see the Visitors section. If you're interested in having us sing at a function, either private or public, please see the Schedule a Performance section. If you're a current member looking for information about upcoming events and music, visit the Current Members section. If you have a question that doesn't fit into any of these categories, you may Contact Us for more information.
Follow us on Instagram
Please visit our umbrella organization Harmony, Incorporated for Covid-19 information.
Events – More coming soon!
PLEASE JOIN THE CALIFORNIA NOTE CATCHERS
7:00pm  Rehearsals – Email us if you would like to join in
JOIN US ON ANY MONDAY EVENING AT 7PM FOR REHEARSAL